Ping An Insurance (Group) Company of China (601318.SH) - The performance met expectation
Summary
-As at the end of 3Q2015, China Pingan's performance met our expectation. Net profit increased sharply by 52.4% y-y to RMB48.276 billion with the EPS of RMB2.64;
-According to the lasted data by China Insurance Regulatory Commission (CIRC), as at the end of Oct 2015, the premiums of the Life and P&C insurance of Ping An increased by 18.98% and 15.36% y-y to RMB178.285 and 134.238 billion respectively;
-Total assets increased stably by 16.5% to RMB4.67 trillion compared with the end of 2014, and net assets increased by 13.4% to RMB328.337 billion;
-The current strategy of "Banking + Insurance + Investment" owns the obvious competitive advantage. China Pingan's Internet Finance business increased sharply with the clients of 197 million, uo 43.2% compared with the end of 2014 ;
-In all, China Pingan's results met expectation, although there was the large market volatility in 3Q, investment incomes maintained the stable growth. The share price decreased significantly recently, and the valuation is attractive now, therefore we maintain China Pingan's 12-m TP at RMB65.00, 92% higher than the current price, equivalent to 15.6xP/E and 2.0xP/B in 2016 respectively. Maintain Buy rating. (Closing price as at 27 Nov 2015)
Operating performance met expectation
As at the end of Oct 2015, the premiums of the Life and P&C insurance of Ping An increased by 18.98% and 15.36% y-y to RMB178.285 and 134.238 billion respectively
Although there was the deterioration of the market in 3Q, China Pingan's investment incomes increased stably. By the end of Sep, total amount of the Group's investment portfolio reached to RMB1.61 trillion, decreased by RMB30 billion compared with 2Q, and up 9.5% compared with the end of 2014. Net return on investment achieved to 5.6%. Net profit increased sharply by 52.4% y-y to RMB48.276 billion with the EPS of RMB2.64. The changes met our previous expectation.
Meanwhile, the Group's banking business developed stably, in 3Q2015, net profit of the banking business grew 13% to RMB17.74 billion, but the asset quality went down obviously, the NPL ratio increased from 1.02% in 2014 to 1.34%, and down 0.02ppts compared with the end of 2Q, and the NPLs amounted to RMB16.199 billion. We expect the Group's asset quality would go down continually in future, but should be better than our expectation.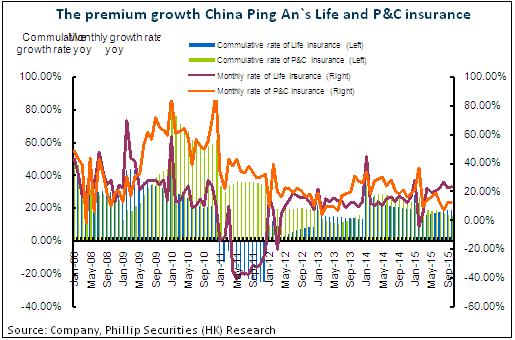 Overall, Ping An's operating performance met our expectations benefited from the stable growth of businesses. We still hold the optimistic view on the development of the sector, and therefore, we maintained China Pingan's 12-m TP in A Shares at RMB65.00, 92% higher than the current price, equivalent to 15.6xP/E and 2.0xP/B in 2016 respectively, the valuation is attractive. Recommend Buy rating. (Closing price as at 27 Nov 2015)
Risk
Lower-than-expected growth of main business incomes;
Share price decreases sharply affected by the market environment in the short term.
FINANCIALS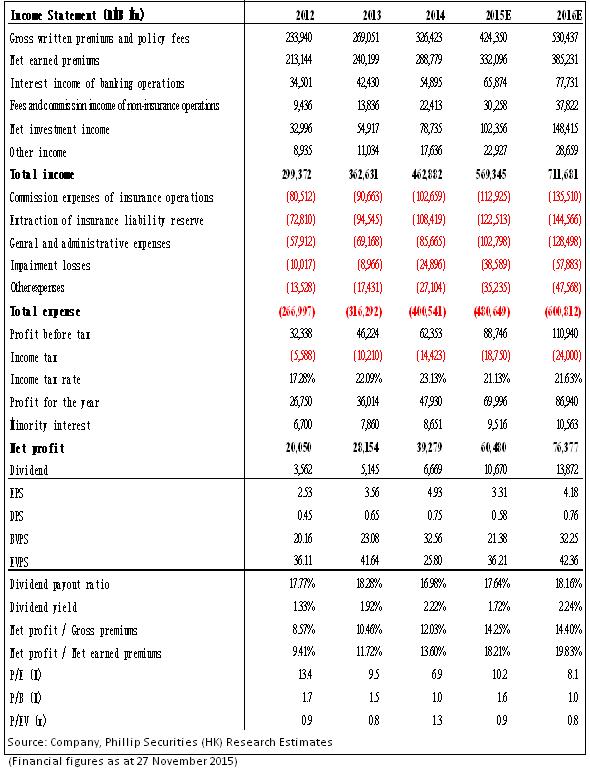 Back to Top