CHOW TAI FOOK (1929.HK) - Shiny enough; giving `Neutral`rating
Company Profile
Chow Tai Fook is principally engaged in design, production and sales of jewellery, gold products and watch under the brand "CHOW TAI FOOK". The Group is the largest jeweller in the world by market cap, and has over 1,800 points of sale in more than 400 cities in Hong Kong, Macau and Mainland China, etc.
Sales growth remained strong after gold rush: Chow Tai Fook (CTF) recorded 1.5% YoY sales growth only and even negative SSSG in FY13. But the sales growth turned to very positive in FY14. Thanks to gold rush last year, CTF had 48.5% YoY sales growth (61.0% in HK, Macau & Taiwan, 38.3% in Mainland China) and SSSG of 33.2% (47.0% in HK, Macau & Taiwan and 21.5% in Mainland China) in 1HFY14 (ended Sep 13). Even the growth rates slowed down after the gold rush, we see positive trend in 3QFY14 and CNY (17 Jan to 3 Feb), especially in Mainland China. The sales growth and SSSG were 34.0% and 14.0% in Mainland China for 3QFY14 (vs. 33.0% and 12.0% for 2QFY14). For 2014 CNY, the sales growth and SSSG in Mainland China accelerated to 34.0% and 18.0% respectively. We believe the consumer sentiment in China improved significantly and the franchise stores had regained confidence to re-stock. And we think the trend will continue in this fiscal year and we are optimistic on CTF`s business in Mainland China this year. We forecast that the SSSG in HK and Mainland China to be 29% and 14% respectively in FY14. And we noted that the gem-set jewellery accounted for 26% of revenue in 3QFY14 (vs. 22% in 2QFY14 and 16% in 1QFY14), the change in CTF`s product mix will help improving its overall gross margin and partly offsetting the impact from consumers shifting to mass market gold products with lower margins.
Aggressive store expansion: CTK added 94 POS in 3QFY14, bringing the total no. of POS to 2,048 as at Dec 13 (vs. 1,836 POS to end FY13). It has already met CTF`s target of 2,000 POS in FY14. The expansion speed is faster than expected, but we also noted that about 50% of the 94 POS opened in 3QFY14 were franchise stores, so the overall operating risk from fast expansion is lowered. We expect CTK to keep adding around 200 POS each year. Undoubtedly, CTK`s earnings growth relies on the SSSG and store expansion, the Group`s number of POS had CAGR of 15.9% for past 3 years (from FY10 to FY13). But it is worthwhile to remind investors that China`s sportswear sector had demonstrated the risks of excessive expansion in China market.
Li Ning (2331 HK) `s number of stores increased from 6,245 in 2008 to 8,255 in 2011 (CAGR of 9.7%), but the Group`s earnings slumped 65.2% YoY in 2011 after reaching the record high in 2010.
Trading at a high premium to peers: CTF is trading at a significant premium to peers in terms of P/E. Undoubtedly, CTF has a leading position in industry, larger market cap, stronger profitability and relatively higher margins, and we believe CTF will keep out-performing peers in terms of earnings growth on its strong brand effect, management`s execution ability and expansion of market share, but we think the valuation premium level is enough to reflect all these.
Valuation
CTF is trading at FY14 P/E est. of 20.5x (vs. historical average of 18.0x), which is close to 1 s.d. above the historical average, to reflect the improving consumer sentiment and recent strong operational data. But CTF`s share price has soared more than 20% YTD, we think it has already priced-in the positive prospect. We estimate CTF`s FY14/15 EPS to reach HKD69.3/79.5 cents, representing 2-year CAGR of 20.1%. Our 12-month target price is HKD14.30, based on FY15 forecast P/E of 18.0x. We give a "Neutral" rating. The major downside risks are 1.) Weaker-than-expected consumer sentiment, 2.) Brand deterioration, 3.) Decrease in number of mainland visitors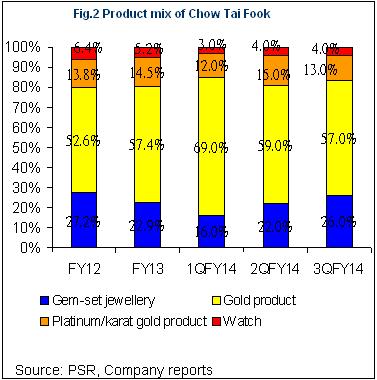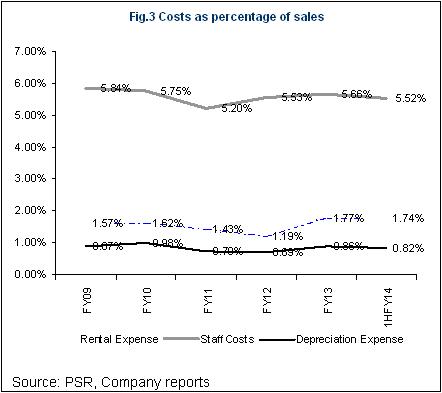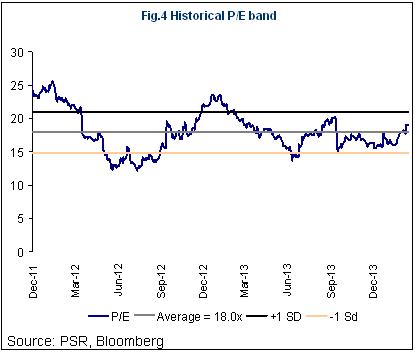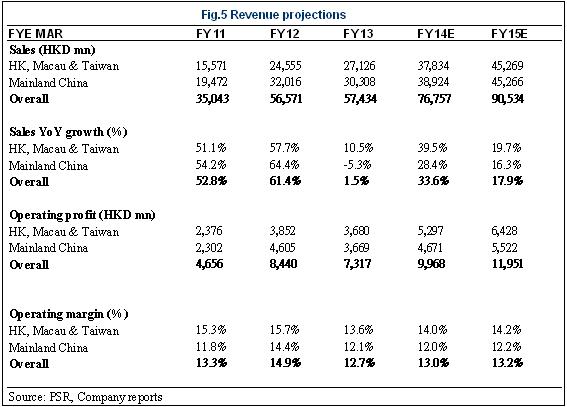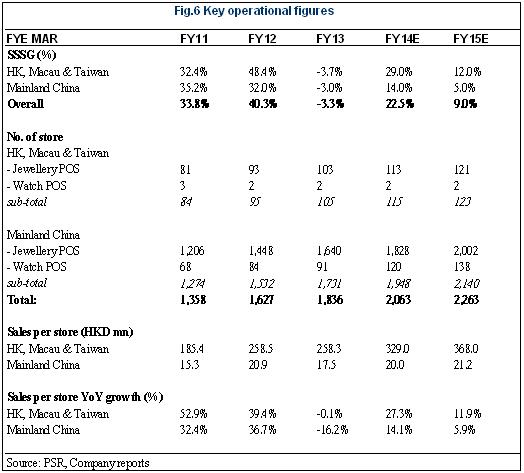 Major risks
Brand deterioration
Weaker-than-expected consumer sentiment
Decrease in mainland visitors
Rental costs surge
Financial Status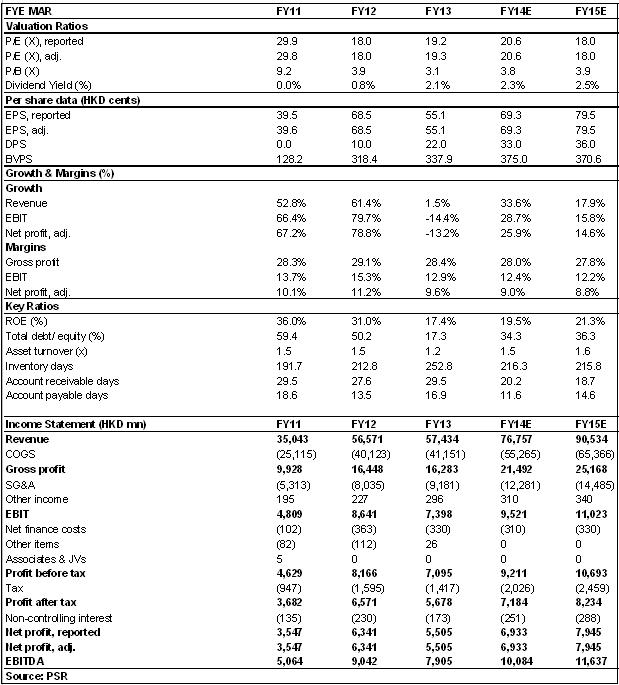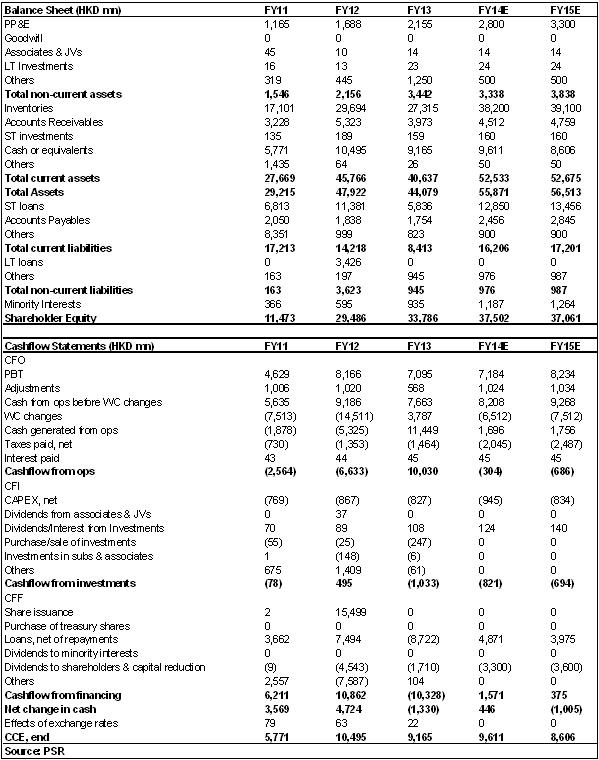 Back to Top