Air China (753.HK) - Buy Opportunity Arose in Slack Season
Net income in 2016Q1 Surged by near to 50%
According to Air China's First Quarterly Report 2016 (China Accounting Standards), it recorded a revenue of RMB26.39 billion in 1Q16, up 4.38% Y-o-Y. Its net profit attributed to the parent company rose by 44.8% to RMB2.33 billion, and EPS was RMB0.20. More rapid growth in revenue than that in oil cost, with less input in marketing and financial expenses mainly contributed to such substantial increase.
FY2015 Results Soared by 83.7%
A plunge in the crude oil cost led to an annual growth of 83.7% in attributable net income in 2015, though the total revenue increased only by 4%. Meanwhile, over RMB5 billion exchange loss caused by renminbi's depreciation offset part of the profit. Excluding that offset, the company could have registered a 182% year-on-year increase in final results.
Aviation data Maintained Steady Growth
In 2016, Air China continued to accelerate the deployment of transport capacity for international routes. International ASK in the first four months of 2016 had grown by 26% year-on-year, leading to a 25.7% Y-o-Y increase in international passenger turnover, far higher than 4.6% and 4% Y-o-Y increase respectively in its domestic routes. Remaining stable on the whole, Passenger Load Factor dropped by 0.3ppts to 79.9%.
Direct selling continued to enjoy a bigger share. Throughout the first quarter, sales on the official website have reached 26.6% proportion of its total ticket booking, representing a Y-o-Y increase of 12.8 percentage points. Additional four jets were bought to join a fleet of 594 airplanes in total during 2016Q1.
The management of Air China made it clear that they will carry forward the strategy of hub network and innovation of business pattern to strengthen service competitiveness with respect to digital and Internet-based service. In the meantime, they will optimize the debt structure and increase direct selling for more tangible gains.
Valuation & Investment thesis
Currently, the company is burdened with US dollar-denominated debt of 67.3%, down by 6.2 percentage points, year-on-year. The debt burden is expected to drop to 60% by the end of 2016. We hold that the two-way volatility RMB rate is becoming a notable trend, which is likely to become stable in mid-term. Since the second quarter, international oil price has climbed up by 30% compared with the first quarter, yet there was no remarkable growth compared with last year's average. We will continue to track the fuel cost since it takes a huge proportion in total cost of airlines. After the slack season of June, then will comes the traditional peak season. It is advisable to invest in the aviation sector before the slack season ends. The target price is maintained at HKD7.09, and P/E estimates 8.3x/7.2x in 2016/2017. 癒禮Buy癒穡 rating is given. (Closing price as at 23 May 2016)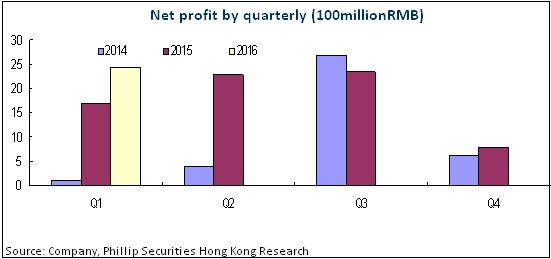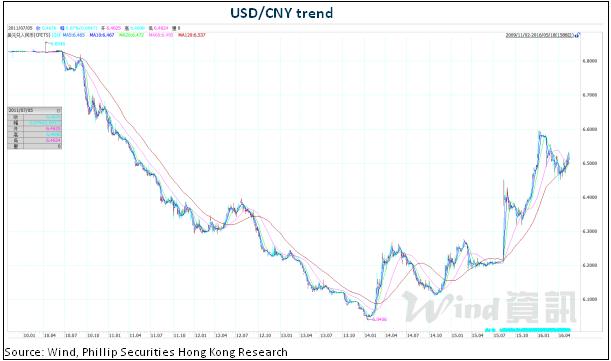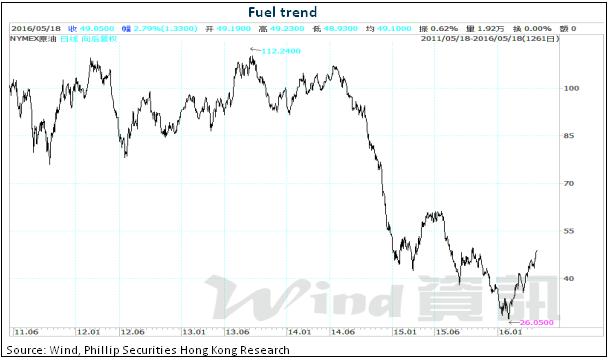 Financials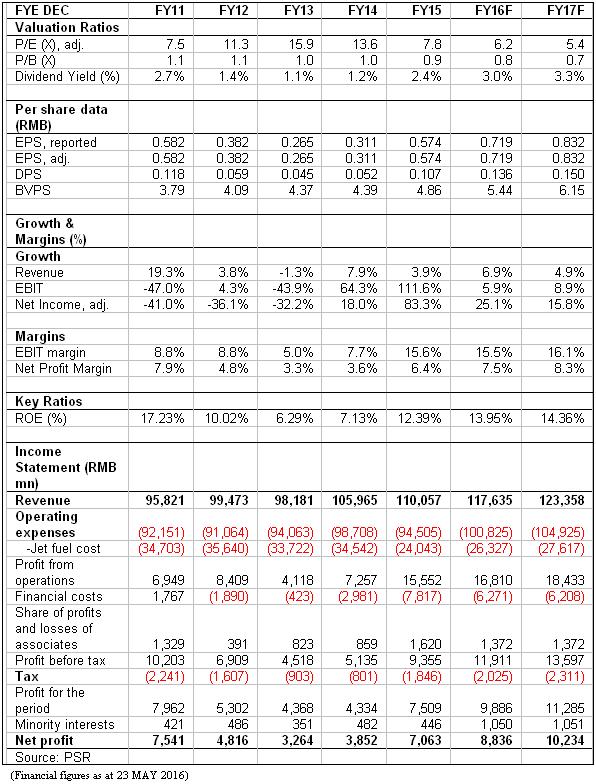 Back to Top