China Cinda Asset Managemnt Co., Ltd. (1359.HK) - Monopolistic advantage in the industry with the strong profit growth
-China Cinda is a leading AMC in China, and initially aimed to manage the distressed assets of China's large-sized financial institutions, mainly for state-owned banks, and therefore it has the strong governmental background, meanwhile, its major shareholder is MOF, and owns the monopolistic advantages in the industry;
-China Cinda is the leader of China's distressed asset management industry in terms of income, profit, business scale and cash recovered, and its main businesses include: Distressed asset management, investment and asset management and financial service, and distressed asset management is the major part, by the end of June 2014, the proportion of the incomes of these three businesses to the Group's total income recorded 55.4%, 18.7% and 28.1%, and the EBTs of each part were 72.9%, 21.7% and 9.2% of the Group's total EBT respectively;
-In China Cinda's distressed debt assets, the major part came from non-financial enterprises (NFE) distressed assets. As at the end of June 2014, the proportion of net balance of financial institutions (FI) and NFE distressed assets were 39% and 61% respectively;
-China Cinda's FI Distressed Assets mainly include NPLs and other distressed debt assets from banks, especially from Large-sized Commercial Banks, but the proportion dropped from 98.9% in 2010 to 31.8% in 1H2014, and the portion of Small and middle-sized Commercial Banks increased from 12.6% in 1H2013 to 23.8% in 1H2014;
-DES Asset Management also is one of the major businesses of China Cinda, and it gains a large amount of DES Assets primarily through D/E swap, receipt of equity in satisfaction of debt and other distressed assets related transactions, and owns diversified comprehensive income through dividend income, disposal income and restructuring income and so on;
-The Group's DES Assets are mainly unlisted shares of DES Companies, by the end of 1H2014, China Cinda held 182 DES Companies with total book value of RMB34.78 billion, down 0.2% slightly compared with the end of 2013, and Listed DES Assets were 67 DES Companies, with total book value of RMB7.674 billion. It is worthy of noting that the exit multiple of DES Assets disposed of total equity was2.6x, of which that of unlisted equity was 4.7x , up 0.5 and 2.6 respectively compared with the same period of last year, representing the huge opportunity of the profitability;
-According to investment and asset management, the incomes were 18.7% of the Group's total income, up 1ppts y-y to RMB4.824 billion. Cinda Investment was one of main entities, its total income increased by 35.8% y-y to RMB3.315 billion. Based on the type of investment, 52.8% of the Group's principle investment was equity investments, and 25.7% was fund investments, with 8.8% of real estate investments;
-According to financial service business, leasing and securities and futures were still main profit sources. By the end of June 2014, total income of Cinda Leasing amounted to RMB1.253 billion, with the EBT of RMB357 million, up strongly 401.69%. Securities and Futures recorded the total income of RMB1.26 billion, and the EBT increased by 47.35% y-y.
How we view this
In all, China Cinda's performance increases strongly due to the large market supply, and the profit maintains the large growth. Recently, the PBOC announced to cut the interest rates, and we estimate the interest rate will be decreased continually in future, with the positive impact on real estate industry, and therefore it's helpful to improve China Cinda's performance, with the increase of both assets and profits, we forecast the Group's net profit would increase by 23% y-y approximately in 2014.
Investment Action
It has quite large uncertainty of the performance estimation for China Cinda due to its unique and complicated operating model, especially for its distressed asset management and PE investments, which is difficult to find the benchmark. However, considering China Cinda's strong governmental background, the monopolistic advantages in business and the large market demand, we have the confidence in China Cinda's future performance, and based on the current valuation of domestic listed banks and insurers in terms of P/B in valuation, we increase the 12-m target price of China Cinda to HK$5.2, around 26.8% higher than the latest closing price, equivalent to 10.6xP/E and 1.5xP/B in 2015 respectively, maintain at Buy rating.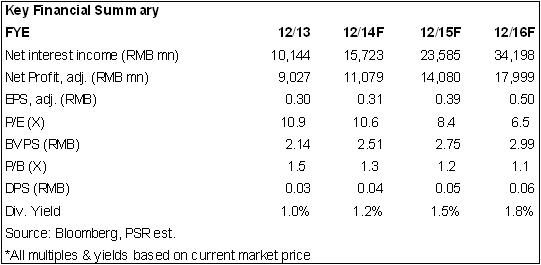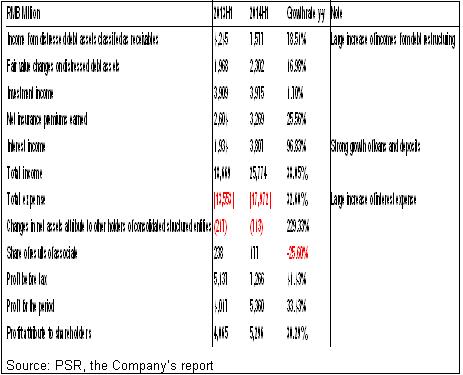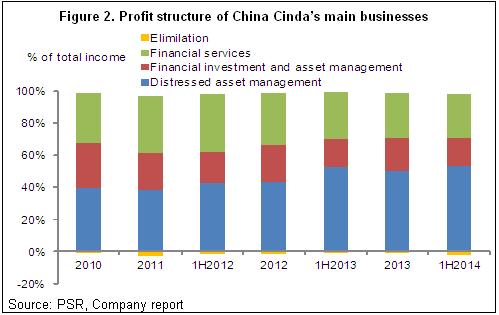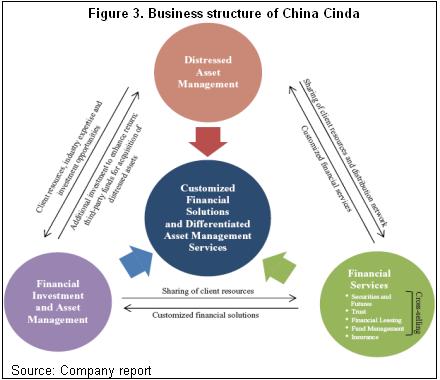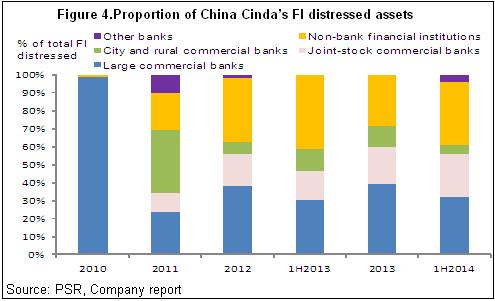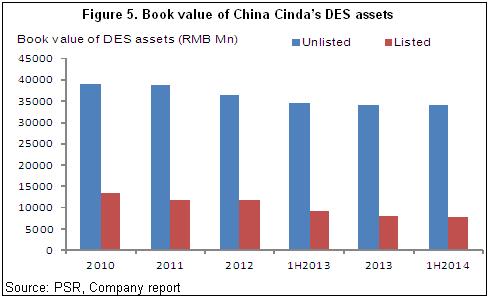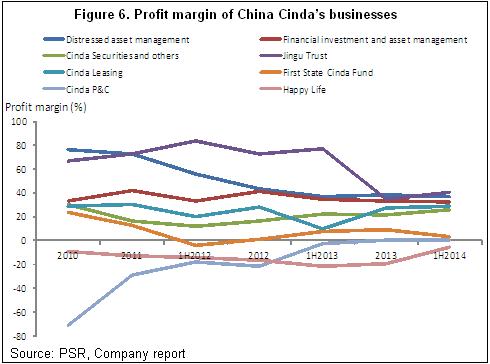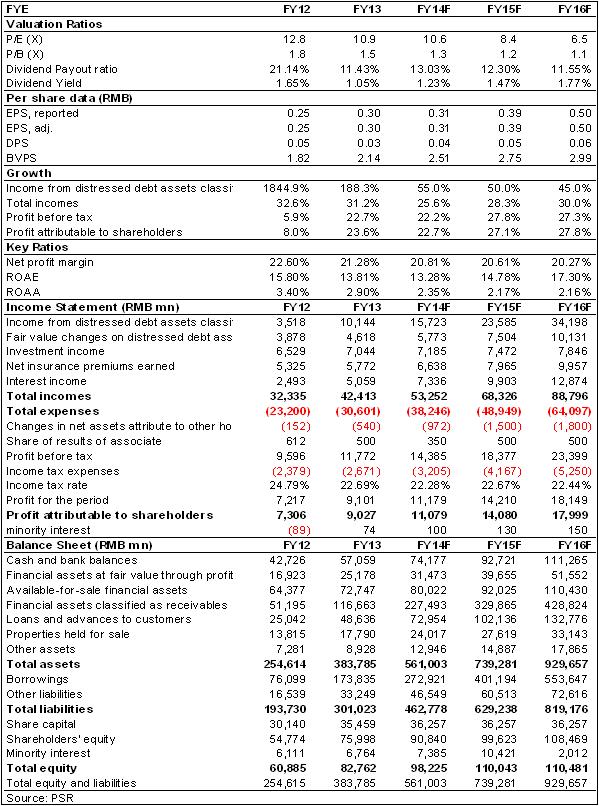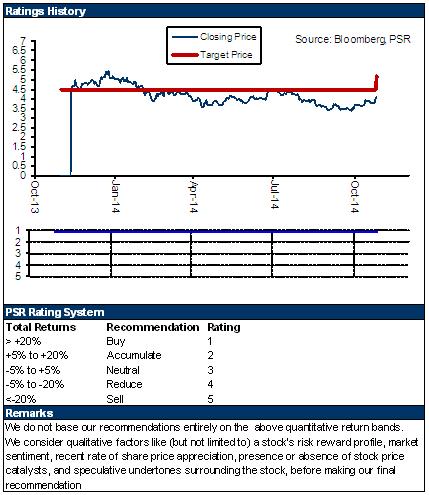 Back to Top