Chinasoft International (354.HK) - Expectable Sustainable Growth
Amazing Performance in H1 2016
In H1, Chinasoft International Limited achieved a total revenue of RMB2.88 billion, increased by 20.8%. Revenue from TPG business increased by 30.5% y-o-y while that from IIG business dropped by 5.3% y-o-y, accounting for 79.3% and 20.7% of the total revenue, respectively. The net profit attributable to stockholders reached RMB240 million, soared by 69.1% y-o-y. Specifically, the growth in TPG business was mainly attributable to the increase from major customers. Service revenue from the top ten key accounts took up 68% of the total service revenue. After Huawei Technologies Co. Ltd., the company's largest key account, completed strategic investment of a 3.95% equity in early 2016, its revenue contribution has been rising and reached nearly 52% in H1.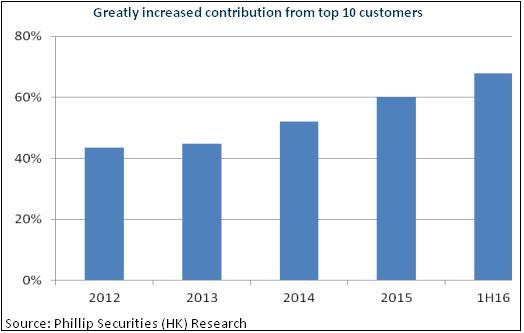 In terms of profitability, TPG business, which had low gross profit margin, experienced an increase in business volume, dragging down the company's gross profit margin slightly by 0.6% to 27.8%. However, due to the scale effect, the company's marketing &administrative expense ratio drop by 1.4% to 17.4%. Additionally, other gains encouraged by subsidy income soared by 273% y-o-y to RMB48.11 million, contributing to a substantial growth in the company's net profit.
Major Customer Strategy Supports Continued Growth
The company's major customer strategy was further expanded. Currently, Huawei-related business remains the major driving force for growth. Furthermore, Huawei's increasing outsourcing demand brought about the company's rising bargaining power. The company became more capable of shouldering responsibility for overall customization and delivery in Huawei's tele-software, operations & maintenance of public cloud services, mobile payment, and other areas, highlighting its strong technical strength. More orders from Huawei are expected. Geographically, bilateral businesses between Huawei and the company covered around 30 countries. Huawei's global promotion of cloud computing and big data solutions will take the company's business to the global level.
In addition, the company's cooperation with other blue-chip clients, including HSBC, Tencent and Alibaba, will be gradually deepened. In early 2016, the company became HSBC's sole strategic partner in China. In addition, the company formed strategic ally with Tencent's QCloud to exclusively undertake customer services of IEG Joy Club. As for Ali Group, the company won the bid for AutoNavi, Youku Tudou Inc., UC, Hundsun Technologies Inc., and others. We believe that the revenue contribution from blue-chip clients will gradually grow. TPG business is expected to maintain a growth of more than 20%.
JointForce Platform Rapidly Expands
Revolving around JointForce, the company has built an initial service ecosystem of IT Crowdsourcing Services + Cloud Services + SAAS Services + Business Services. By the end of September, there were 12,000 outsourcing enterprises, 2,500 IT vendors, 900 development teams and over 120,000 vendor engineers registering on JointForce platform. From January to September, demand released was worth up to RMB400 million.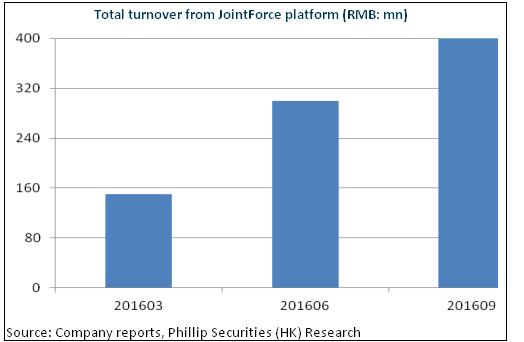 Although the revenue contribution from JointForce is relatively low for now, the company may attract more enterprise grade developers to station in the future as platforms such as online education, online recruitment, and online advertising expand and supply-chain finance and venture incubate, helping increase its contribution. Further, the platform business is characterized by high gross profit margin, which is expected to increase the company's profit margin.
Generally speaking, the company will continuously benefit from the considerable growth of the informatization of China, localization of IT, expanded off-shore IT outsourcing market, cloud computing in Mainland and other emerging businesses. Additionally, the improvement in the bargaining power and the efficiency of the platform will also enhance the company's profitability, so its rapid result growth is still anticipated. We give the company an estimation of 22.5x EPS in 2016 and the target price is HK$4.86, with the "Buy" rating maintained. (Closing price as at 20 Oct 2016)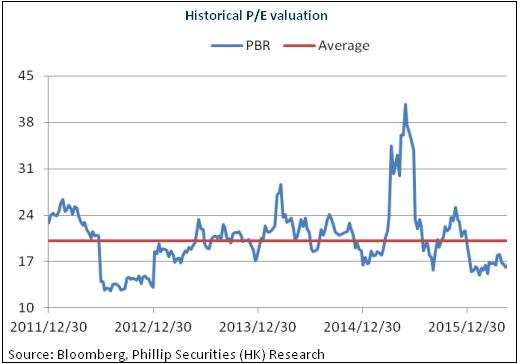 Risks
Intense competition that may result in decline in profitability;
Excessive rise in labor costs;
Operation risk of Joint Force platform and cloud computing.
Financials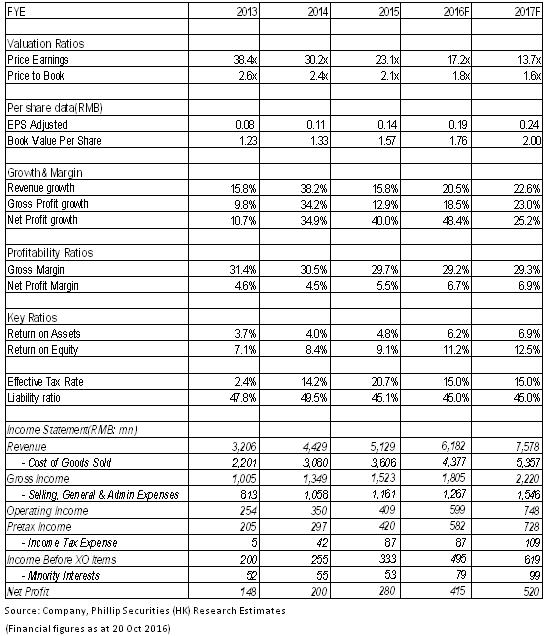 Back to Top