SMIC (981.HK) - Growth Prospects Remaining Optimistic in H2
Q2 Results Surpasses Expectation
In H1, SMIC's revenue and net profit reached USD1.33 billion and USD160 million, respectively, representing y-o-y increase of 25.4% and 20.3%, respectively. In Q2, its revenue was USD690 million, increased by 26.3% y-o-y and by 8.8% q-o-q. Its net profit amounted to USD97.64 million, up by 27.3% y-o-y and by 59% q-o-q. Revenue and net profit both went up to a new peak and surpassed the market expectation.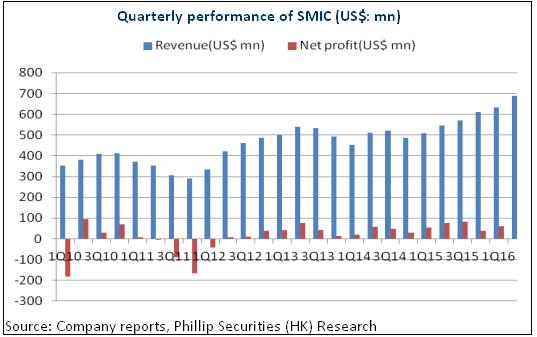 Domestic market growth is the main reason why the company could surpass its expectation. In Q2, the revenue from China increased by 28.7% y-o-y and by 20.1% q-o-q. Meanwhile, the company has its profitability rising. In Q2, gross profit margin was 31.6%, up by 7.3% q-o-q and by 2.2% y-o-y. This was due to the improved overall operational efficiency and the increase of the proportion of 40/45nm product. Besides, the outage of Beijing plant dragged down the gross profit margin in Q1.
Growth Prospects Remaining Optimistic in H2
It is expected that in Q3, the company will continue to see an increase of revenue by 8%-11%, and gross profit margin at 28%-30%. Revenue in Q4 will also continue to grow against the head wind. We believe that the growth of Chinese market and the enhancement of competitive edge in semi-conductor are the main force which drives the development of the company. Currently, Chinese system companies have gained much market share in the end market. Chip design companies surge rapidly. SMIC leads domestic integrated circuit production and is bound to be favored by the trend of growth in the integrated circuit industry in China.
Acquisition of LFoundry to Complement Each Other
SMIC acquired 70% of the shares of LFoundry at EUR49 million. Both will complement each other's advantages in terms of technology, product, talent, and market. The transaction has been completely closed in the end of July. It is the first transnational production base made by an integrated circuit wafer manufacturer in China. LFoundry is a wafer OEM in Italy. The capacity of 8-inch equivalent wafers surpassed 40,000 pieces. After merger, SMIC's capacity is expected to be increased by 13%. Meanwhile, LFoundry is committed to automotive and industrial application. Compared with the market positioning of SMIC in telecommunication and consumption market, its market application will be expanded.
Valuation
The company has been making money for 17 consecutive quarters. The migration of the electronics to the mainland, the capacity expansion, and the merger with LFoundry will support the company's continuing growth. Also, the advanced processing and integrated layout will sharpen the company's competitive edge. Therefore, we give a valuation of 1.2x BVPS in 2016 and the target price of HK$1, with the "Accumulate" rating. (Closing price as at 26 Sep 2016)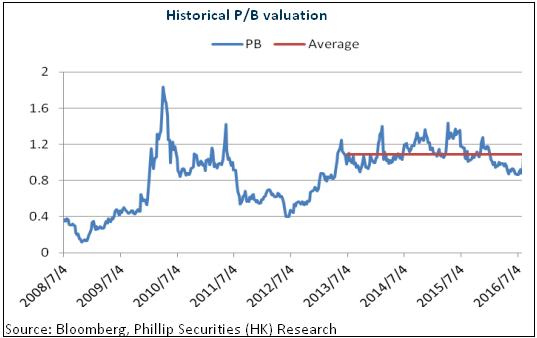 Risks
28nm mass production schedule falls short of expectation;
Growth of domestic customers falls short of expectation;
International integration falls short of expectation.
Financials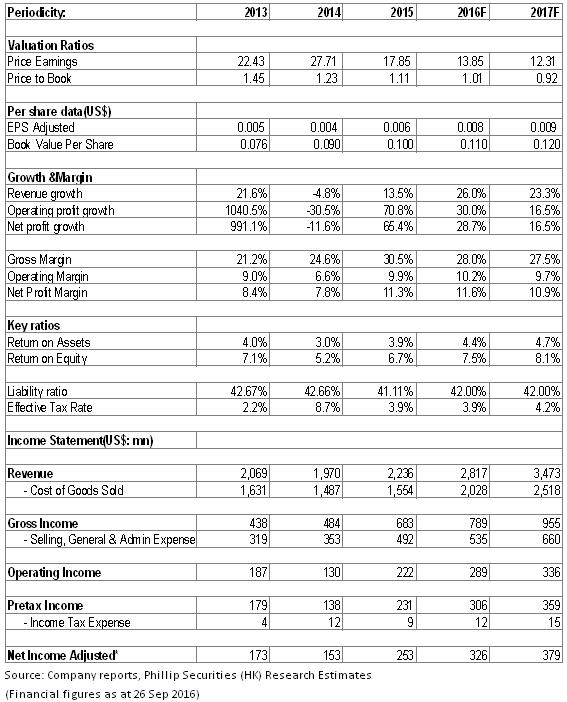 Back to Top