Logan Property (3380.HK) - Developer of the Rapidly Growing Shenzhen Region
Well-Positioned Property Portfolio
Logan Property's projects in Shenzhen are well-positioned with advanced transport infrastructure such as high speed rail and underground rail services, making Shenzhen CBD area standing at the fingertips of the properties. Being located above or close to the rail station has also given Logan Property's projects a huge price appreciation potential, making it more attractive to potential homebuyers and investors. Moreover, Shenzhen government has announced a 5-year plan regarding to the expansion to the eastern part of Shenzhen and the relevant city development and infrastructure construction. To coordinate with the future development trend in Shenzhen, Logan Property has recently acquired a land with 100% attributable interest and GFA of 135,440 square metres in Pingshan, located in the eastern part of Shenzhen. A few years ago, Logan Property has already established its strategic presence in East Shenzhen by developing Logan City, which is technically located in Huizhou but is just a block away from East Shenzhen. Apart from the East Shenzhen development, Logan Property has acquired a land, with GFA 720,000 square metres and 40% attributable interest, in Guangming district of Shenzhen at recorded price.
High Quality Land Bank with Low Cost
The company has been actively expanding its land bank in recent years, increasing the gross floor area of the saleable resources to 14.08 million square metres, which satisfy the company's demand for property development in the next 5-6 years. According to the below chart, the land bank is composed of land primarily from Shenzhen, contributing to 39% of the total GFA in the land bank. In terms of financial value, Shenzhen contributes to more than 70% of the saleable resources in the land bank because of the rapidly rising property price in Shenzhen in recent years.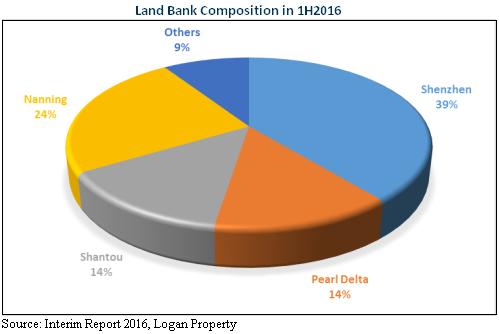 Logan Property primarily operates in South China, and has a specific focus in Shenzhen, which the property market has been hot in recent years. According to the graph below, the sales price of the new apartment in Shenzhen rose 34%, from CNY41,139 to CNY55,150 per square metres in just a year. Pearl Delta region also has a growing property price whilst those for Nanning and Shantou were relatively stable in the same period.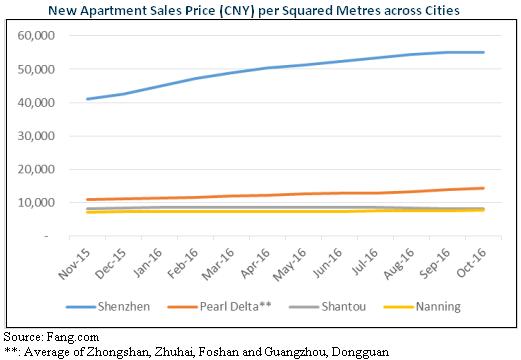 On the other hand, the three most recent land acquisition in Shenzhen performed by Logan Property were Guangming project (8/6/2016), Pingshan (22/12/2015) and Longhua Hongshan project (23/9/2015) and their cost were CNY19,527, CNY7,989 and CNY13,366 per square metre respectively. According to China Urban Land Price Dynamic Monitor, the price per square metre of residential property in Shenzhen for 2Q2016, 4Q2015, and 3Q2015 are CNY45,534, CNY42,251 and CNY40,230 per square metres respectively. Comparing the prices, we can see that Logan Property obtained land at lower price than the Shenzhen average price and in comparison with the average price of CNY3,409 per square metres in the land bank, the current Shenzhen land market price is more than 10 times of the cost of land in the land bank.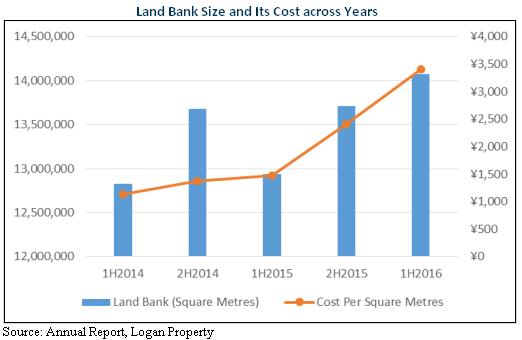 Impact of Government Policy
Chinese government has implemented tightening policy in the property market. Policy includes loan limitation, down payment ratio increase and quantity limitation etc. However, we believe these policies` effects on Shenzhen property price will be short term and minimal. According to statistics by Shenzhen government, the population in 2014 is 10.78 million. However, according to the 5 year plan on property construction by Shenzhen government, the home ownership percentage in Shenzhen is only 34% in 2015. In comparison with the homeownership percentage of Shanghai, Beijing and Guangzhou, which are 70%, 70% and 90% respectively, the homeownership percentage in Shenzhen is unacceptably small.
Besides, Shenzhen has rapid economic growth, with a GDP growth of 8.6% in 1H2016 in comparison with 1H2015. Shenzhen also has an expanding population as well as population inflow from other provinces, both of which are the fundamental drivers of the property prices. Since demand for housing in Shenzhen hugely exceeds the supply, along with rapid economic growth and expanding population, we expect Shenzhen property price will continue to rise in long term.
Financial Outlook
While Logan Property is increasing the size of its land bank, it has been consistently launching new projects. According to the chart below, as at Jun 2016, the company had a recorded high on GFA of developing projects in almost 3 years, standing at 5,301,042 square metres. Newly commenced projects increased 77.5%, from 854,682 square metres in Jun 2015 to 1,517,439 square metres in Jun 2016.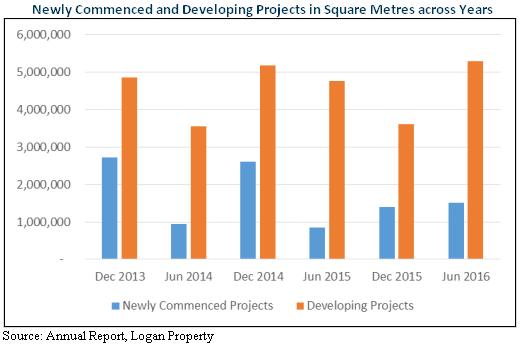 Despite actively starting new projects, contracted sales volume and its average selling price have been catching up too. As shown from the chart below, contracted sales volume and average selling price have increased 71% and 79.7% in 1H2016, in comparison with 1H2015 respectively. With the rapidly growing contracted sales and the rapidly growing GFA of developing projects, we expect the top line sales to grow rapidly in the next few years.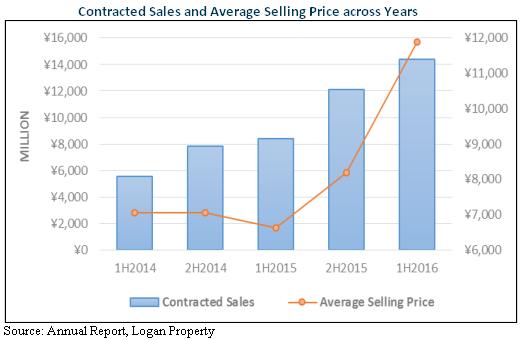 According to the chart below, the average contracted sales price per square metres made during 1H2016 is higher than that of the recognised sales. In particular, Shenzhen's one increased 75.3% from CNY11,169 to CNY19,574 per square metres. With the relatively low cost land bank, we expect the gross profit margin to improve from the current, stable average of 30%.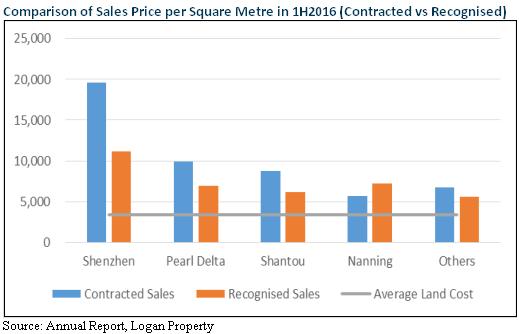 Comparing contracted sales, which increased to CNY14,390 million in 1H2016, and recognised sales, which increased to CNY6,613 million in 1H2016, we can see clearly that contracted sales exceed recognised sales by 217%. In addition to the difference in sales volume, the proportion contributed by Shenzhen in contracted sales, according to the two charts below, has increased significantly. Due to the high sales price per square metres in Shenzhen, we expect Logan Property to have rising gross profit margin as well as gross profit in absolute amount. Referring further below to the profit margins chart, we can see that the difference between gross margin line and the EBITDA margin line is stable. Moreover, Net margin line is relatively constant. Therefore, with a gross margin and gross profit increase, we expect the company will generate larger net profit in the future.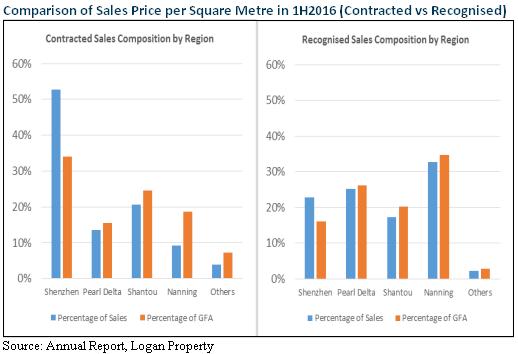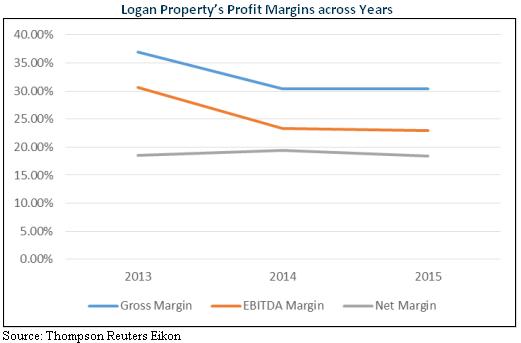 Valuation
With the low homeownership percentage and population inflow to Shenzhen, Logan Property will continue to benefit from these fundamental housing demand drivers. Moreover, Logan Property's cheap land reserve would allow it to generate sizable profit in the next few years. The peer average P/E, P/B, and P/S are 6.56x, 0.87x, and 1.16x respectively. Logan Property's target price is therefore $4.10, with Buy rating assigned. (Closing price as at 28 Nov 2016)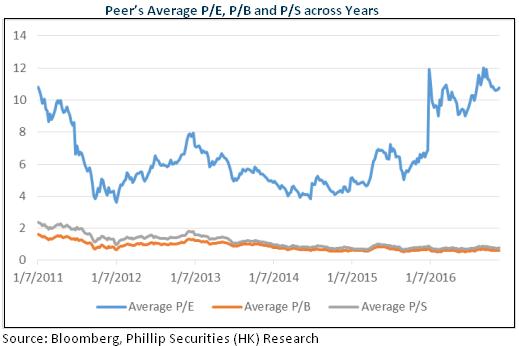 Risk
Highly levered company, with vast amount of debt maturing in 2020.
Tightening regulations.
Financials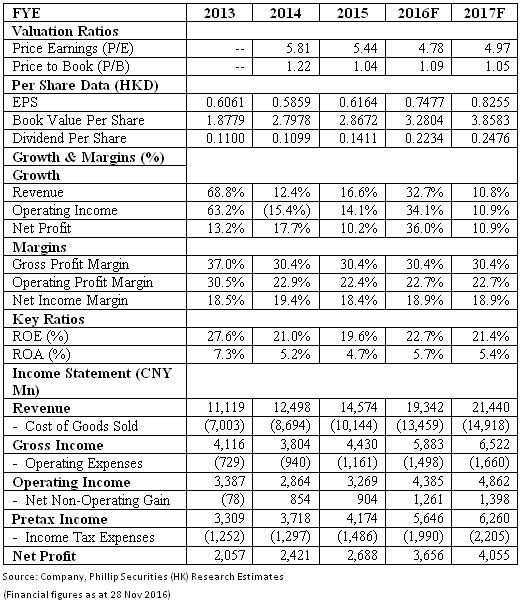 Back to Top