Report Review of June. 2015
Sectors:
Mainland financial, Utilities (Xingyu Chen), Mainland Telecom (Fanguohe),Mainland property, Oil and gas service (Chengeng), Air, Automobiles, Infrastructure (ZhangJing), New energy & Environmental Goods (Zhang Kun)
Mainland Financial (Xingyu Chen)
The market continued to go down in June, HSI decreased from 27,600 at the beginning of this month to 26,300 currently, down 4.7% approximately. According to the performance, the banks` share prices maintained the same trend as the market this month, and most of them declined. H Shares was weak due to off-season in June and the large volatility in A Shares recently.
We believe the banks` operating performance still maintains at the stable level, and share price performance meets our expectation. Considering the large adjustment recently, the banks would be more attractive for conservative investors, and therefore we still hold the cautiously optimistic view on the banks` prices in future. Maintain the banking sector on Buy rating.
Mainland Telecom (Fan guohe)
This month I released 5 equity reports including, Trigiant Group (1300.HK), Tongda group (698.HK), Kangmei Pharmaceutical (600518.CH), YOFC (6869.HK) and NetDragon (777.HK). We prefer NetDragon with the more attractive future. NetDragon is a developer and operator of online games and mobile Internet platform, and its success can be attributed to multiple qualities. First, the Company's management has international horizon and keen understanding of the market. Next, the Company has outstanding R&D capability. Lastly, the Company has shown forward-looking vision by positioning accurately and seizing the opportunity. We think the success gene that the Company has developed in its 17173 online games portal and 91 assistant platform will be introduced in online education business, and that its integrated solution for K12 teaching and learning aims to change the boring teaching in the traditional education system and raise students` learning competence. Taking into account the huge potential of the online education and the in-depth cooperation between the Company and top education companies and institutions, it is very likely that the Company becomes a leading K12 online education company in the near future.
Mainland Property & Oil/Gas service (Chen geng)
Automobile & Air (ZhangJing)
This month I released 4 equity reports including, Caeri (601965.CH), Baoxin (1293.HK), GAC (2238.HK) and BYD (1211.HK). We prefer Baoxin with the more attractive future. BMW China and Brilliance BMW both released a letter to their dealers, announcing to bring down sales target and we think that this move will have a positive effect on helping BMW dealers reduce stocks and improve their bottom line. On the other hand, new Measures for Automobile Sales Management, soon to come out, is expected to give more say to dealers in terms of agreement duration, withdrawal mechanism and automotive parts management. Again, we believe that the new regulation is beneficial for protecting the interests of dealers and for the improvement of their survival environment. We revised the target price to 6.86, respectively 13/11x P/E for 2015/2016.
New energy & Environmental protection (ZhangKun)
We updated four reports in this month, they were Concord NE(182.HK),Goldwind (2208.HK),GCL New Energy(451.HK) and Longking Env (600388.SH).We recommend GCL New Energy, With the backing up of GCL, the company has technology advantages in PV power plant construction and operation while enjoying the preference of material supply from GCL-POLY and GCL System Integration. The three years to come will see the company have a significant increase of installed capacity. Calculated on the basis of 2.6GW and 35% net profit margin to be achieved supposedly at the end of 2015, the company is estimated to record revenues of HK$3.333 billion from electricity sales and net profit of HK$1.167 billion for the electricity sale operaion. Without considering convertible bonds, its current stock price is 8.8X PE. We set its target price for the next 12 months at HK$1.61, equivalent to 15X PE expected for 2016. We give the company a "Buy" rating.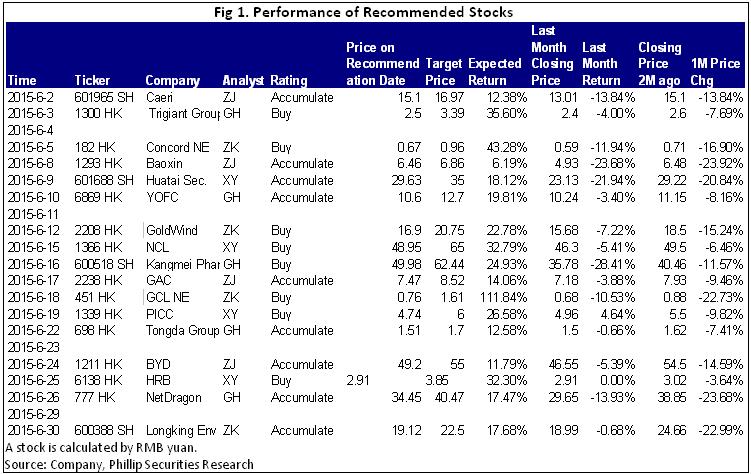 02-07-15

Recommendation on 02-07-15
Suggested purchase price
N/A
Target Price
N/A
Weekly Special - 698 Tongda Group
Information contained herein is based on data obtained from recognized statistical services, issuer reports or communications, or other sources believed to be reliable. However, we do not verify such information. We do not guarantee its accuracy or completeness, nor do we take responsibility for any loss occasioned by reliance placed upon the contents hereof. Any statements nonfactual in nature constitute only current opinions, which are subject to change. Phillip Securities (HK) Ltd (or one of its affiliates) or their officers, directors, analysts, or employees may have positions in securities or commodities referred to herein, and may, as principal or agent, buy and sell such securities or commodities. An employee, analyst, officer, or a director of Phillip Securities (HK) Ltd, or its affiliates, may serve as a director for companies mentioned in this report. Neither the information nor opinion expressed in this report shall constitute a solicitation to buy or sell any securities. There may be instances when fundamental, technical, and quantitative opinions may not be in concert. This firm (or one of its affiliates) may from time to time perform investment banking or other services for, or solicit investment banking or other business from, any company mentioned in this report.
There are risks inherent in international investments, which may make such investments unsuitable for certain clients. These include, for example, economic, political, currency exchange rate fluctuations, and limited availability of information on international securities. We recommend that you obtain the advice of your Financial Advisor regarding this or other investment in order to conform to your financial resources and risk preference