Jumpcan Pharma (600566.SH) - Pudilan Entered into Shandong PDRL; Robust FY17&18Q1 Results
Investment Summary
We highlight that: 1) PAOL and SGYX pill entered into Shandong PDRL; 2) Strong growth in FY17 & 18Q1; 3) Intensifying sales network; 4) Issuing convertible bonds to fund capacity expansion; 5) R&D going well. We assume topline growth in 18E/19E to be 30%/25% and target PE 30x conservatively, thus we get target price of RMB51.6, Accumulate recommendation. (Closing price at 23 Apr 2018)
Business Overview
Pudilan and SGYX pill entered into Shandong PDRL. The company announced on 29 Mar that its exclusive formula Pudilan Anti-inflammatory Oral Liquid (PAOL) and ShenGuiYangXue pills entered into Shandong PDRL, Class II (瞻A类). We expect the sales volume to hike after implementation of PDRL.
Strong FY17 & 18Q1 Results. We see stable growth in 2017: the company achieved revenue of RMB5.64bn (+20.6% YoY), net profit attributable to shareholders of RMB1.22bn (+30.97% YoY) and net profit excluding non-recurring items of RMB1.15bn (+28% YoY). Manufacturing segment turnover reached RMB5.43bn and distribution segment turnover amounted to RMB0.21bn. Selling expenses reported 17.3% YoY growth, roughly in line with topline growth. R&D expenses rose by 34.5% YoY to RMB195mn mainly due to increasing investment in R&D. We also highlight notable growth in 18Q1, which is beyond market expectations: 18Q1 topline was up by 51.45% YoY to RMB2.13bn. GPM remained relatively stable around 84.7% and selling expenses increased by 45%, which generally synchronized with sales growth.
Issuing Convertible Bond to Expand Capacity. In 18Q1, financing costs rose dramatically to RMB3.35mn, attributable to new issuance of RMB828mn convertible bond, which is mainly used to fund capacity expansion (involving the establishment of new buildings, liquid factories, etc.).
Intensifying Distribution Network. The company focuses on three segments, namely Western & Traditional Chinese medicines, TCM daily chemical articles and TCM healthcare products. It continues to enhance distribution channels including hospitals, OTC stores, clinics and supermarkets. With implementation of policies involving tiered medical services and medical union, the company entered more blank regions through intensive academic promotion in primary hospitals. For OTC channel, the company built a strong OTC sales team and enhanced cooperation with other OTC platforms. We see that sales of Iron Proteinsuccinylate Oral Solution (IPOS) and products of newly-acquired subsidiary Dongke continue to climb in 2017.
Progress of Pipeline. During 2017, the company gained production approval of Yangyingqingwei Granules (YYG), clinic trail permissions of three products and six patents. It also launched the construction of Shanghai research center. R&D progress is going well.
Investment Thesis & Valuation
We increase target price to RMB51.6. Given continuously rising sales volume of main products, we estimate that revenue growth to be 30%/25% and EPS to be RMB1.72/2.14 in 18E/19E, with relatively stable margins. We see that currently the average PE of TCM sector is around 28.2x-34.4x. We conservatively assume target PE ratio of 30x to derive 2018 target price of RMB51.6, Accumulate recommendation. (Closing price at 23 Apr 2018)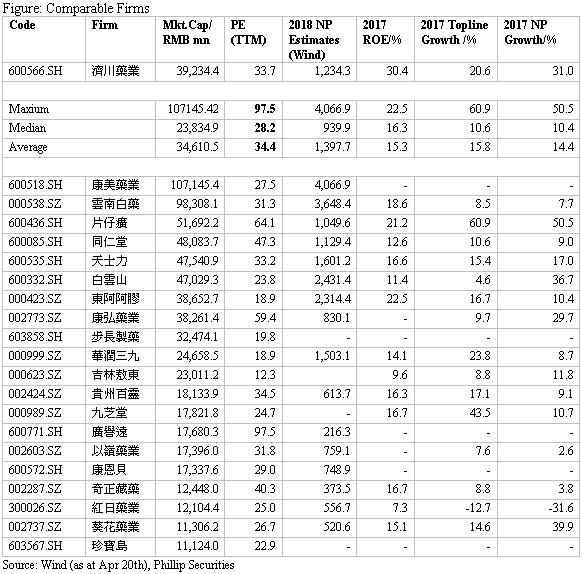 Risks
Slow than expected expansion of distribution network;
Policy risks;
R&D failure.
Financials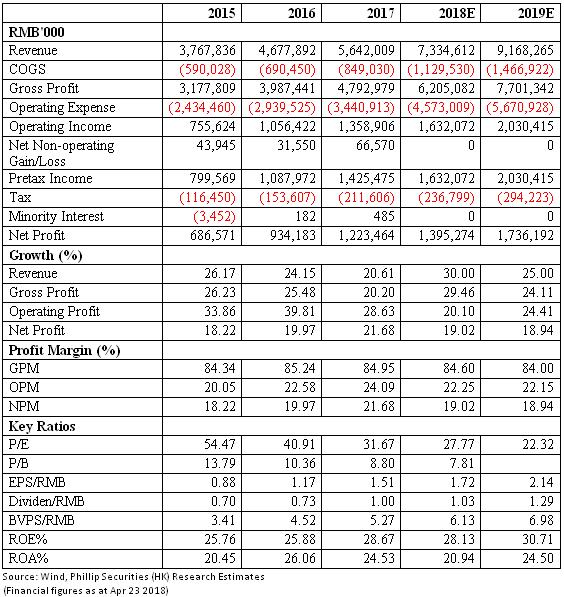 Back to Top