Grandblue ENV (600323.CH) - Post-acquisition results significantly enhanced
Results being enhanced significantly
In 2015H1, Grandblue recorded operating income of RMB1.665 billion, up 47.22% yoy; and business profit of RMB262 million, up 12.41 yoy. Net profit attributable to shareholders of parent company hit RMB189 million, up 15.15% yoy; while weighted average rate of return on net asset recorded 4.43%, dropped 2.37 ppts yoy. Earning per share is RMB0.25. The enhanced business results is mainly contributed by the pretty profit and loss sheet of C&G Environmental Protection (China). In the upcoming two years, C&G would enhance the net profit of Grandblue by RMB100 million and 160 million respectively.
Rapid development in various business segments
The Company's income from solid waste treatment in 2015H1 amounted to RMB512 million, significantly surged 184.59%. Various projects are undergoing normal operation in the Environmental Protection Industry Park for Solid Waste Treatment in Nanhai. Both projects of expansion of Nanhai Waste Incineration Plant I and Nanhai Food Waste Treatment were smoothly completed in June 2015. By signing the contract of acquiring the sanitary landfill for domestic waste in Bainikeng of Sanshui district, the Company would include waste landfill project in its business and further enhance the supply chain of solid waste treatment business. Income from water supply amounted to RMB311 million in 2015H1, up 32.43% yoy. However, due to a number of reasons which include the loss incurred by the subsidiary of water supply, the newly recorded depreciation after the commencement of operation of the new Guicheng Water Treatment Plant, additional cost from Guicheng boosting pump station, and the increase in financial costs etc, the profit of the water supply segment significantly dropped 85.34%. The Company has completed the project of collaboration of water supply of two towns of Dali and Xiqiao. Up till now, the Company has successfully accomplished all collaboration projects on water supply for all streets and towns in Nanhai district, taking the basic control of the end-user market of water supply in Nanhai district. Currently, water price adjustment has been started in Nanhai district. Once the water price adjustment is implemented smoothly, the Company's drop in profit could possibly be reduced.
Valuation
Due to the acquisition of C&G Environmental Protection (China), the Company's business results in 2015H1 has demonstrated significant growth and the future development of business is more consolidated. We adjust the target price downward to RMB17.5 and keep the rating of "Buy". (Closing price as at 9 Oct 2015)
Financials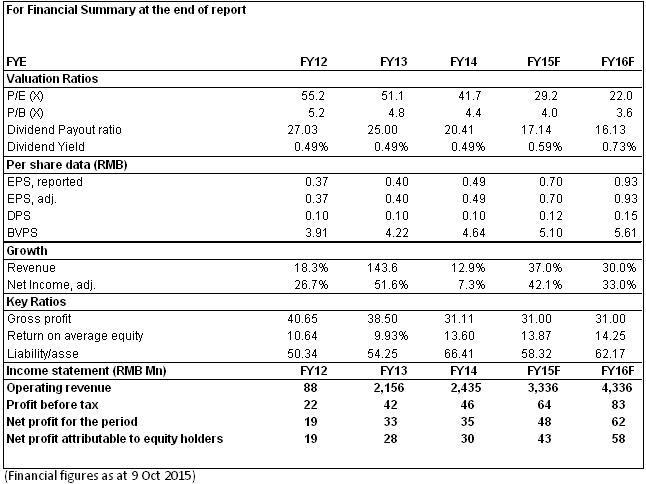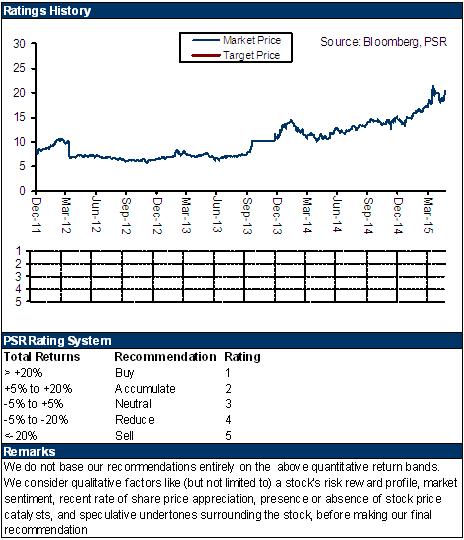 Back to Top
Information contained herein is based on data obtained from recognized statistical services, issuer reports or communications, or other sources believed to be reliable. However, we do not verify such information. We do not guarantee its accuracy or completeness, nor do we take responsibility for any loss occasioned by reliance placed upon the contents hereof. Any statements nonfactual in nature constitute only current opinions, which are subject to change. Phillip Securities (HK) Ltd (or one of its affiliates) or their officers, directors, analysts, or employees may have positions in securities or commodities referred to herein, and may, as principal or agent, buy and sell such securities or commodities. An employee, analyst, officer, or a director of Phillip Securities (HK) Ltd, or its affiliates, may serve as a director for companies mentioned in this report. Neither the information nor opinion expressed in this report shall constitute a solicitation to buy or sell any securities. There may be instances when fundamental, technical, and quantitative opinions may not be in concert. This firm (or one of its affiliates) may from time to time perform investment banking or other services for, or solicit investment banking or other business from, any company mentioned in this report.
There are risks inherent in international investments, which may make such investments unsuitable for certain clients. These include, for example, economic, political, currency exchange rate fluctuations, and limited availability of information on international securities. We recommend that you obtain the advice of your Financial Advisor regarding this or other investment in order to conform to your financial resources and risk preference