Livzon Pharmaceutical (1513.HK) - Large Order Positively Affects Business Performance
Investment Summary
Considering the anti-trend, steady growth of Livzon Pharmaceutical Group Inc. in TCM business, and the surged sales volume of specialized drugs and other second-line varieties, after Ilaprazole enters the NDRL in 2017, it is expected to grow as the premier brand. Meanwhile, the company is expected to form a complete and precise layout of medical treatment through independent R&D and overseas M&A, based on liquid biopsy, McAb and gene sequencing, so the prospects are optimistic. We grant it an estimation of 22.5x EPS in 2017 and the target price at HKD58.2, with the "Accumulate" rating maintained. (Closing price as at 21 June 2017)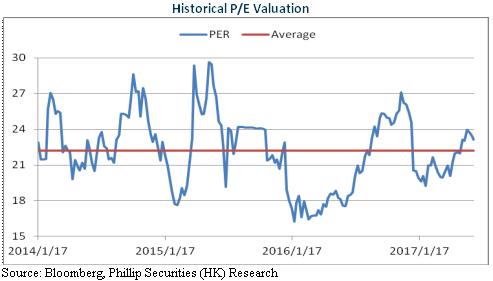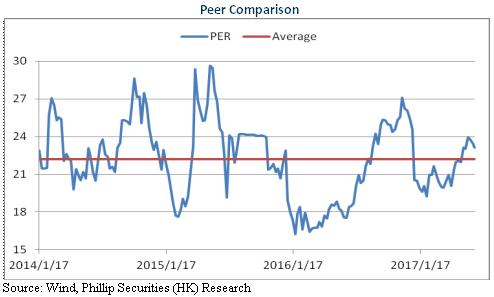 Q1 Results Slightly Exceeded Expectations
According to Q1 report, Livzon Pharmaceutical recorded a revenue of RMB2.13 billion, up 21.8% year-on-year; net profit attributable to parent company was RMB280 million, a YoY increase of 19.5%, corresponding to RMB0.65 of EPS. Net profit attributable to parent company excluding non-recurring items was RMB240 million, a YoY increase of 25.9%, slightly exceeding expectations.
With respect to products, Shenqifuzheng Injection revenue growth slowed to about 5%, mainly due to nationwide expansion of bidding price reduction since 2Q16. However, Ilaprazole Enteric-Coated Tablets and Mouse Nerve Growth Factor continued rapid growth. The growth of revenues of these products was about 40%-50%. The revenue growth of reproductive pipeline drugs was about 20%, including that of Leuprolide microspheres at nearly 50%. Urofollitropin is constrained by the high base of the first quarter of last year, so the growth of this year is limited. Meanwhile, the company has its profitability rising. In Q1, gross profit margin was 65.1%, a YoY increase of 1.3%, which was mainly resulted from the increase in the proportion of products with high gross profit margin.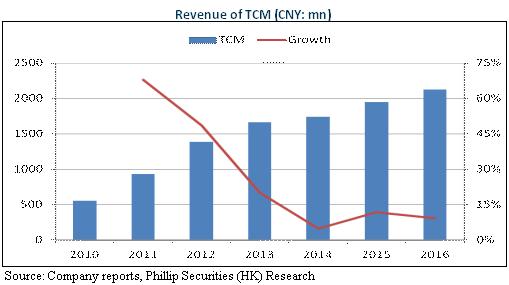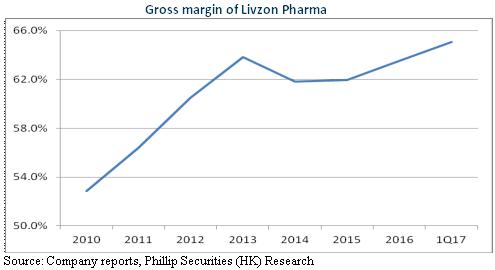 It is notable that the company recently transferred 100% stake of Zhuhai Weixin Industrial Co., Ltd. to Victoria Fortune, and Zhuhai Weixin owns all rights and interests of the original Xiangzhou District land reform projects. The consideration of total equity transferred was RMB4.55 billion, with net profit of about RMB3.46 billion. In this way, the company has sufficient cash for research and development and outbound acquisitions.
Large Order Positively Affects Business Performance
Xinbeijiang Pharmaceutical, a holding subsidiary of the company and Zhongmei Huadong recently signed Material Purchase Contract. Zhongmei Huadong will purchase acarbose from Xinbeijiang Pharmaceutical worth a total of RMB480 million (including tax). Delivery period is 2 years.
In previous two years, purchase and sale amount between Xinbeijiang Pharmaceutical and Zhongmei Huadong were RMB87 million (including tax) and RMB184 million (including tax), respectively. In the first five months of 2017, the purchase and sale amount between both sides was RMB97 million (including tax), and the growth rate was as high as about 40%. The contract in RMB480million for next two years will maintain high growth of acarbose.
Moreover, the gross margin of acarbose is high, which is expected to be approximately 25%. Its increased contribution improved the product structure, leading the overall gross profit margin of API business of the company in 2016 increased by 4.4% to 19.2%. We believe that the big order will continue to improve profitability.
Ilaprazole May Become the Premier Brand
The company's exclusive Ilaprazole, a Category 1.1 new patent drug, has won the second prize in National Scientific and Technological Progress in 2015, and been included in the drug reimbursement list of 13 provinces. The drug has been included in the revised National Drug Reimbursement List (NDRL) in 2017. The expanded scope of reimbursement is expected to significantly stimulate the sales growth. Moreover, Ilaprazole Injection is expected to obtain approval for production in 2017, adding the new dosage form to the company's products.
The sales volume of its counterparts, lansoprazole, pantoprazole, omeprazole and esomeprazole, which were included in drug reimbursement lists, reached above RMB1 billion. Ilaprazole has higher acid suppression, long-term efficacy, good heterogeneity, and fewer adverse reactions, so we expect the sales volume of Ilaprazole grow to the scale of RMB0.5-1 billion. Also, it is expected that the competition will be limited and the bidding prices of Ilaprazole patent drugs will maintain stable.
Risks
Risk of substantial price drop in drugs;
Risk of research and development of new drugs.
Financials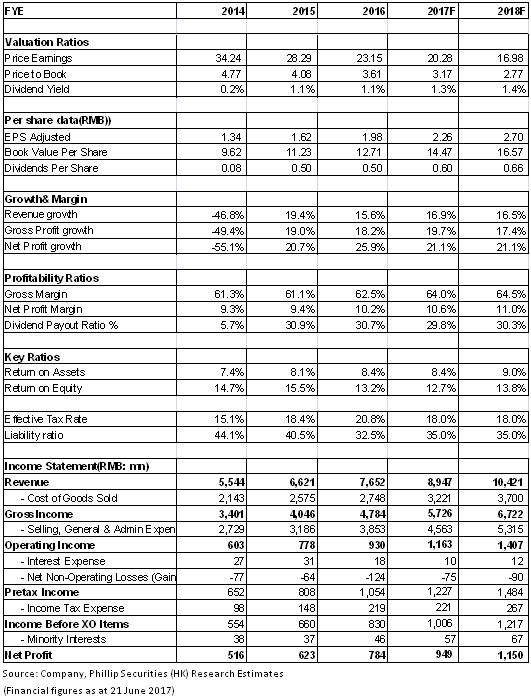 Back to Top