Report Review of April. 2016
Sectors:
Mainland Telecom (Fanguohe), Air, Automobiles, Infrastructure (ZhangJing), Real Estate & Muti-media (Wang Yannan)
Mainland Telecom (Fan guohe)
In April I released 4 equity reports including, Humanwell Healthcare (600079 CH), KPC Pharmaceuticals (600422 CH), Guangdong Land Holdings (0124.HK), and ZTE (0763 HK). ZTE Corporation realized the revenues of RMB100.1 billion in 2015, a yoy increase of 23%; net profit stood at RMB 3.21million, a year-on-year increase of 21.8%. The export restrictions imposed on ZTE by the U.S. Department of Commerce cut net profit by about RMB0.57 billion. Excluding the factor, the net profit stood at RMB3.78 billion, a yoy increase of 43%. It plans to realize the revenue of RMB200 billion by 2020 with an annualized growth rate of about 15%. We hold estimation that the growth will keep high within the next two years. China Unicom and China Telecom have entered a period of rapid development in building the 4G network, which will sustain the steady development of domestic communications device market. Meanwhile, with rising 4G infrastructure in emerging markets, the Company, equipped with technological and branding advantages, will gain benefits in the mid and long term. In addition, the requirements of cloud computing, big data, the Internet of Things and so on for data flow is increasing by geometric progression and the construction of broadband and transmission networks is fastening, which will trigger demands for optical network products in an all-round manner. Regarding to the U.S. export restrictions on ZTE, an agreement is expected to be reached between ZTE and the U.S. administration, thus minimizing the negative influences. We give the Company an estimation of15x EPS in 2016 and the target price is HK$15.75, with the "Buy" rating maintained.
Automobile & Air (ZhangJing)
This month I released 5 equity reports including CAR(699 HK), BCIA (1958 HK), Xinyi Glass(868 HK)癒ACathay Pacific (293 HK) and SIA (600009 CH). We prefer the SIA. The Company's net profit attributable to shareholders in 2015 increased by 20.8% yoy to RMB2.531 billion, With the expansion of commercial areas following T1's renovation and the long-term driving role of Shanghai Disneyland Resort, it is believed that the Company's non-aviation business will gain a momentum with strong revenue growth.
Real Estate & Muti-media (Wang Yannan)
Evergrande Real Estate realized an operating revenue of RMB133.1 billion in 2015, a year-on-year increase of 19.5%, among which, the real estate business obtained a revenue of RMB126.4 billion, a year-on-year increase of 17.7%. The income growth is attributable mainly to an increase of 2.4% in the acreage of properties from which the sales income has been confirmed compared with that in 2014 and a year-on-year increase of 14.9% in the average unit price of properties. The Company achieved a net profit attributable to the parent company of RMB10.5 billion, a year-on-year decrease of 12.83% mainly due to the initial cost of non-operating businesses. In terms of profitability, the Company obtained a gross profit of RMB37.4 billion, increased by 17.7% compared with that of last year; the gross profit rate was 28.1%, dropping by 0.4 percentage points compared with that of last year. EPS realized RMB0.713. Continuing to uphold the policy of "cash is king", the Company maintained a cash balance of RMB164.02 billion, increased greatly by 175.7% compared with last year's RMB59.5 billion. The abundant cash flow served as solid backup for the Company's proceeding to carry out large-scale mergers and acquisitions. With leading ability of land reserve, strong ability of cost control and the ability of large-scale and rapid developing, the Company actively adjusts its strategy to the trends by further optimizing regional layouts of projects, continuing to uphold the prudent fiscal policies under continuously easing industrial policies and strengthened regional differentiation. As a result, steady growth of the major businesses and coordinated development of diversified businesses will bring sustained improvement to its performance. We estimate that the EPS (earnings per share) of the Company in 2016 and 2017 will be 0.76 RMB and 0.90 RMB respectively and give a target price of HKD 5.96, equivalent to 1.21X PB ratios in 2016 and 1.07X PB ratios in 2017, and with the rating is "Neutral"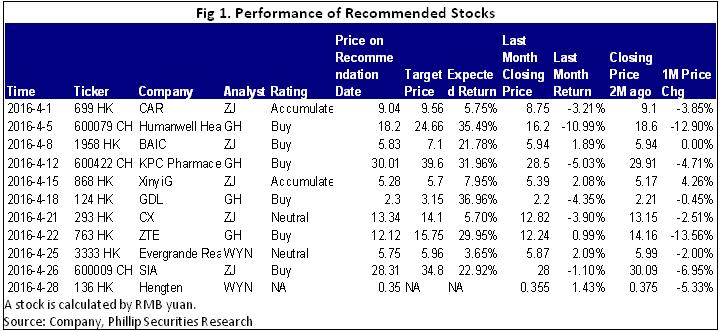 29-04-16

Recommendation on 29-04-16
Suggested purchase price
N/A
Target Price
N/A
Weekly Special - 763 ZTE Corporation
Information contained herein is based on data obtained from recognized statistical services, issuer reports or communications, or other sources believed to be reliable. However, we do not verify such information. We do not guarantee its accuracy or completeness, nor do we take responsibility for any loss occasioned by reliance placed upon the contents hereof. Any statements nonfactual in nature constitute only current opinions, which are subject to change. Phillip Securities (HK) Ltd (or one of its affiliates) or their officers, directors, analysts, or employees may have positions in securities or commodities referred to herein, and may, as principal or agent, buy and sell such securities or commodities. An employee, analyst, officer, or a director of Phillip Securities (HK) Ltd, or its affiliates, may serve as a director for companies mentioned in this report. Neither the information nor opinion expressed in this report shall constitute a solicitation to buy or sell any securities. There may be instances when fundamental, technical, and quantitative opinions may not be in concert. This firm (or one of its affiliates) may from time to time perform investment banking or other services for, or solicit investment banking or other business from, any company mentioned in this report.
There are risks inherent in international investments, which may make such investments unsuitable for certain clients. These include, for example, economic, political, currency exchange rate fluctuations, and limited availability of information on international securities. We recommend that you obtain the advice of your Financial Advisor regarding this or other investment in order to conform to your financial resources and risk preference