SUNeVision (1686.HK) - Annual result in line with expectations, yet gross profit margin deteriorating
Investment Summary
SUNeVision is one of the leading carrier-neutral data center operators in Hong Kong, owned 74.04% by Sun Hung Kai Properties (16.HK). The 2018 annual result was satisfactory, and generally in line with our expectations except GPM. Besides, the group was applying for a judicial review on subletting restriction in industrial estates. Once successful, it could enhance the importance of Mega Plus in Hong Kong. Factoring in the severer deterioration in GPM, rising interest expense, and stronger estimated revenue growth, we derive our target price to be HK$ 5.72, downgrading to 癒禮Accumulate癒穡, with 9.79% potential upside. (Closing price at 2 Oct 2018)
Corporate Update
2018 performance in line with expectations, except gross profit margin
The annual result for the group was generally in line with our forecasts, except the gross profit margin. The revenue reached HK$1.36 billion, up 19.5% YoY, slightly over our previous estimate, 16.2%. However, the deterioration in GPM was larger than we expected, dropping by 3.2ppt to 58.5%, 1.5ppt lower than our estimate. The plunge in GPM was mainly due to higher operating costs and depreciation charges due to the opening of MEGA Plus. For selling expenses and administrative expenses, the actual amount generally matched with our expectations. The actual EBIT excluding gain on fair value reached HK$738 million, generally in line of our estimate, HK$742 million.
Judicial review on subletting restrictions in industrial estates
On 10 Sep 2018, the group applied for a judicial review, accusing Hong Kong Science & Technology Parks Corporation (HKSTP) of allowing its tenants subletting to a third party in the industrial estates, and asking for the enforcement of the lease terms. According to the lease terms in industrial estates, the tenants are prohibited to sublet its space to any third party, because the lease is subsidized by government, leading to a much lower rental than market price. Since data center business usually involves subletting, data center operators located in industrial estates may be considered in breach of the terms during the operations. However, it is allegedly some operators in industrial estates are taking advantage of the grey area in the lease terms to provide subletting, resulting in a judicial review from the group. Currently, there are 9 data center service providers in TKO Industrial estates, such as China Mobile, NTT Communications, HKCOLO, Digital Realty Trust, and etc. If the loophole is closed due to the success in judicial review, the operators in TKO Industrial Estate may be either slapped with penalties or forced to cease the lease agreement. In addition, Tseung Kwan O has been one of the favorite districts for data center, because four submarine cables are connected right there. If the data centers in TKO stop operation due to the subletting restrictions, Mega Plus will be the only data center located in TKO, and permitted to subletting, which enhance its importance in Hong Kong.
Valuation
We adjust the GPM downward from 59/58% to 57.5%/57% in 2019/20F, in reflection of the severer deterioration in GPM then our previous estimate. Besides, we also lift the estimated revenue growth from 7.9%/9.2% to 9.3%/10.4% in 2019/20F, in light of the strong growth from Mega Plus as well as the optimization and expansion in Mega Two and Mega-i. Assuming 2019F P/E 36x, we give a target price of HK$5.72, down 4.2% then previous TP, due to the increasing interest expenses and dropping GPM. With 9.79% potential upside, we downgrade to the rating to 癒禮Accumulate癒穡.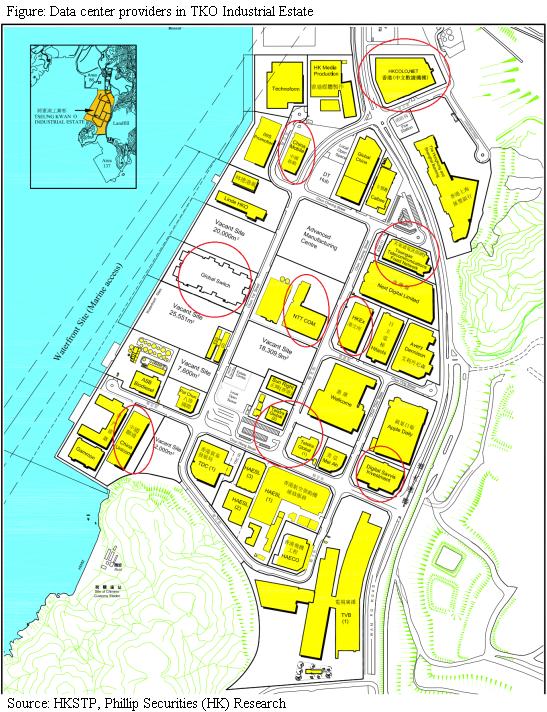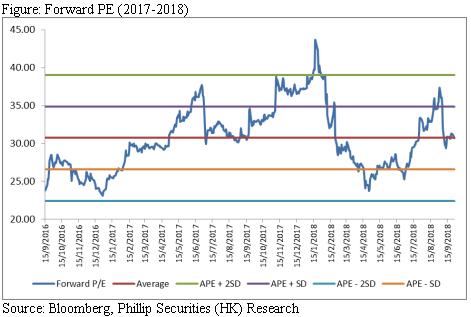 Risk
1. Slower than expected demand on data center
2. Significant increase in land supply for data centers within a short period
3. The entry of cloud service giant players to data center industry in Hong Kong
Financials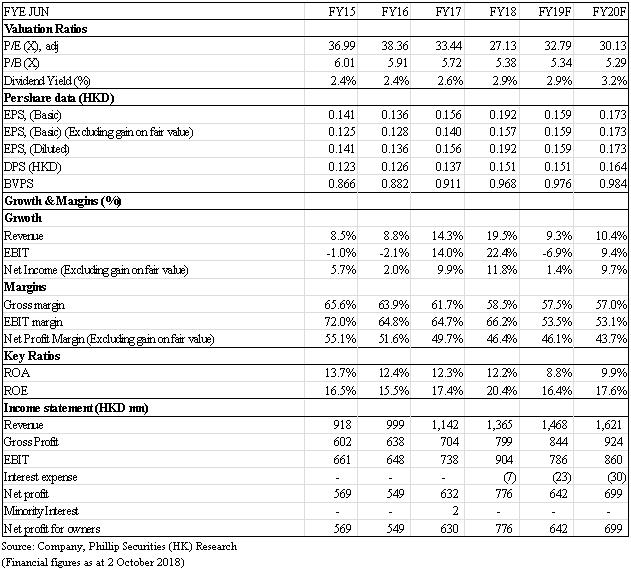 Back to Top